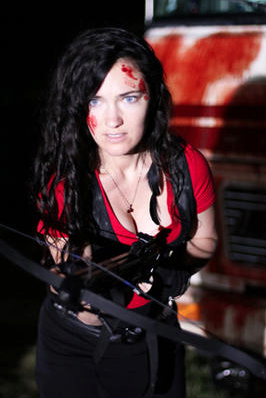 April Mullen has come a long way from the days of performing plays with her cousins in the living room of her Niagara Falls home.
The actor-director has had parts in several TV series including Howie Mandel's Howie Do It and most recently Scare Tactics, which airs locally on Much. She also has been at the helm for two full-length movies and has just recently completed work on a third — Dead Before Dawn 3D — with producer Tim Dorion.
"My parents will tell you I was putting on plays with my cousins at age five," Mullen said.
The filmmaking duo will take part in the second annual Niagara Falls Comic-Con Saturday, June 9, at the Scotiabank Convention Centre. They join former wrestlers "The Genius" Lanny Poffo, Greg "The Hammer" Valentine" and Brutus "The Barber" Beefcake as the first celebrity guests lined up for the event.
Early bird tickets cost $10 and go on sale Feb. 10 at 10 a.m. After April 7, tickets will cost $15. Children ages 8 and under are free.
Read more about April and the Niagara Falls Comic-Con in Niagara This Week.