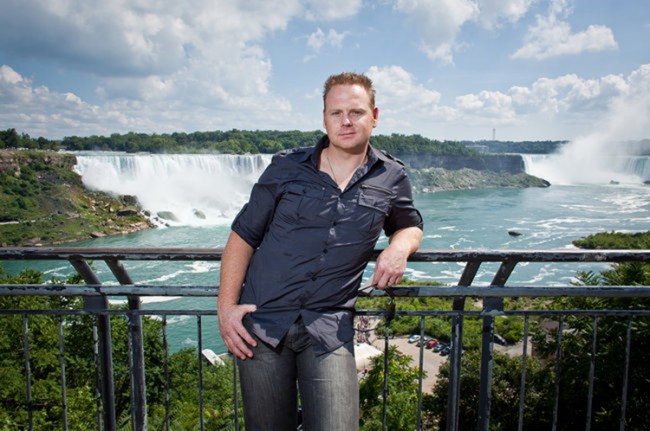 Source: Niagara Falls Tourism
Dan Dakin from the Niagara Falls Review attended the press release today and found out the following:
NIAGARA FALLS – The crowd of 120,000 people expected to show up to watch Nik Wallenda walk across Niagara Falls on a tightrope next week will be safe.
GETTING THERE
Public transit will be the way to go. The city is setting up satellite parking lots at 4200 Montrose Rd. (the casino employee parking lot), at the former Walmart on Morrison St. and at the Zellers on Morrison St.
From those three lots, there will be Niagara Transit shuttles running to the base of Clifton Hill for $5, including return.
The public parking lot behind the Scotiabank Niagara Convention Centre will also be available for paid parking, in addition to all of the private lots in the area.
For people coming in from Toronto, GO Transit is running a special Wallenda train that will leave Union Station at 3:30 p.m. It will arrive at the Via Rail station in the Falls just after 5:30 p.m. and return to Toronto at midnight. Niagara Transit will shuttle people to Clifton Hill and back.
For anyone driving into the city, there will be signs recommending people exit at McLeod Rd. and head to the Rapidsview parking lot across from Marineland. From there, People Mover buses will be used to get people down to the falls.
The Niagara Parkway will close at 4 p.m. from Clifton Hill to Fraser Hill, which is the entrance road to the Table Rock parking lot. Once that lot fills up, the Parkway will be closed all the way to the Rapidsview parking lot.
The parks commission is used to handling tens of thousands of people for its annual New Year's Eve celebrations, but Wallenda has estimated more than 100,000 spectators will watch the walk from the Canadian side. That would be the largest crowd ever at the site.
Emergency service agencies are setting up a joint command centre in Queen Victoria Park and will have fire, police and paramedics stationed around the area.
WALLENDA'S SAFETY
Wallenda is responsible for his own personal safety and rescue, but a backup plan is in place to get him off the wire, if necessary.
"We have a great deal of confidence in Wallenda's team, but we still have to plan accordingly," Kane said.
The Niagara Parks Commission has purchased a $3,500 Zip Rescue Device, which was designed for use in rescuing people stuck on ski lifts. Should Wallenda end up stuck on the wire, rescue workers will attach themselves to the rescue device and slide to him.