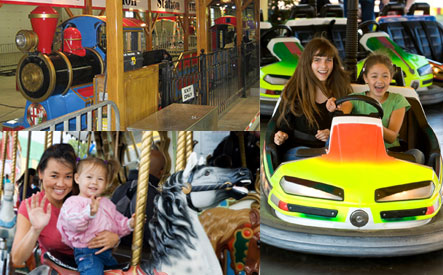 What's better than a day off for Family Day? How about a trip to an amusement park?
And not just that one day, but an entire weekend.
On Family Day weekend thrillseekers can experience all the fun of a summer day at an amusement park — in the middle of February. Dubbed Family Day Fest, the ScotiaBank Convention Centre will be the site of what is being hailed by organizers as the city's largest indoor amusement park featuring rides, attractions and interactive entertainment on Feb. 18 to 20. "We connected with the ScotiaBank Convention Centre even before it was built," said Pat Carpignano of Superior Events, and who is one of the event's co-producers.
Superior has organized a similar event at Downsview Park in 2011 and will be doing so in 2012 as well. The Niagara Falls event will also serve as a test run for another event to be held over the March Break. "We'll try it out at Family Fest," Carpignano said.
He added that Niagara Falls hotels and the Fallsview Business Improvement Area are both "excited" that the event is coming to the city."The hotels are offering stay and play packages," Carpignano said, adding that the BIA helped connect organizers with hotels in the city. "The hotels are overjoyed something extra will be happening."
Family Day Fest will include, entertainment and midway rides and attractions. Rides include bumper cars, Kite Flyer, Train Ride, Chilly Willy, Merry Go Round, Scrambler, Wacky World, Clock Castle and King Croc Slide.
Special admission packages include:
• Children' Day Pass: (includes event admission and unlimited rides),  $25 (for children ages two and over.)
• Adults (18 and over are $8 and are for admission only. Tickets for rides must be purchased separately.
• Children one and under are will be admitted free but will not be able to go on rides.
• Corporate rates and group discounts are available for parties of 10 or more special discounted rates are available for schools and camps.
Tickets will also be sold at the door.
Visit www.familydayfest.ca or the event's facebook page for more information.
Source: Niagara This Week
If your family needs more thrills and chills, visit Nightmares Fear Factory, Niagara Falls scariest haunted house attraction. Your best discount on tickets and Niagara Falls family packages can be found on Nightmares Facebook Page (save 22%) or from Nightmares Fear Factory website (save 13%).