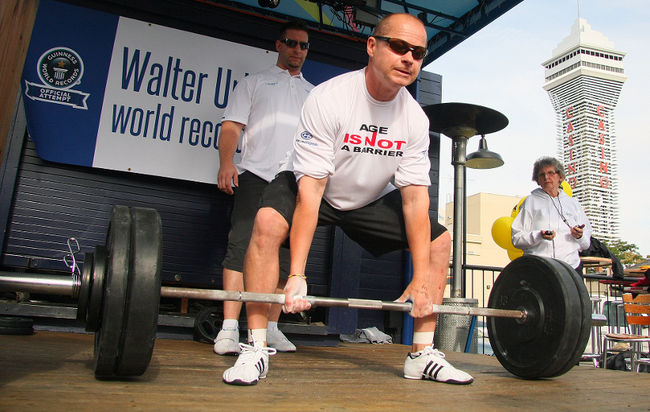 Source: niagarafallsreview.ca
Walter Urban now has the weight of the world off his shoulders.
Well, not quite the weight of the world, but the weight of a 14-passenger business jet at least.
As part of CBC's Sports Day in Canada on Saturday, the Guelph resident set a new Guinness World Record by sumo deadlifting 10,535 pounds in one minute. He accomplished the record on live TV and in front of about 50 people on Clifton Hill, mere footsteps away from the Guinness World Records Museum.
"It's great, it's been a year long with the training now, but I've been powerlifting for 16 years so it's taken me a long time to get here," Urban said.
A sumo deadlift is when a person stands with their arms in between their legs and lifts a bar until they are standing straight up.
What makes the feat even more outstanding is that Urban smashed the 2,225-pound goal set by Guinness World Records at the age of 54.
"I'm trying to spread the word that you can get fit at any age," he said. "You can be strong in your 50s, 60s, or 70s and it doesn't matter what you're doing whether it's swimming, walking, basketball, whatever, find your passion and go for it."
Guiness World Records judicator Stuart Claxton was present to officially record the event. He determined Urban lifted the 215-pound bar 49 times in 60 seconds.
"It's an amazing accomplishment," Claxton said of the 165-pound Urban, who already holds one Guinness World Record for most weight squat lifted in one hour at 127,245 pounds. "It's human nature to be obsessed by feats of strength and power … Running, lifting, pulling, it really makes its mark on our psyche as human beings."
Urban was drug tested before the event, said Claxton.
For his next accomplishment, Urban is looking at attempting to break the record for most weight deadlifted, conventional style.
That's a heavy load
10 reps – 2,150 pounds, or a 21-foot motor boat
30 reps – 6,450 pounds, or two cars
45 reps- 9,675 pounds, or 335 cases of bottled water
50 reps – 10,750 pounds, or a private jet