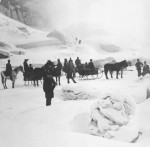 Winter in Niagara Falls. It's a different experience than Niagara Falls in the summer for many reasons. There are a wide variety of events and attractions that just aren't available to spring/summer or fall visitors. For example, the CAA Winter Festival of Lights, skating at the edge of the horseshoe falls with TD's Rink at the Brink , and the Niagara Ice-Wine Festival,  to just name a few.
However every February many locals are reminded of the Niagara Falls Ice Bridge tragedy that claimed three lives on February 12, 1912.  During the cold winter's ice would form covering the Niagara River below the Falls creating a bridge of ice. This ice bridge was huge, thick and solid, allowing people to cross the entire width of the Niagara River from Canada to the USA on the surface of the ice rather than using the International Bridges located downstream. As the weather turned warmer the ice bridge started to break apart slowly but then rapidly.  On that February day, there were a handful of people on the bridge and most were able to get to safety, however 3 were not so lucky.  Attempts were made to rescue them by lowering a rope from the bridge but failed and unfortunately the three lives were lost. Needless to say, as a result of this tragedy the city has put the kibosh on any thrill-seekers daring to explore the ice bridge. Which is fine…those thrill-seekers now dare to visit Nightmares Fear Factory to get their FEAR rush and their adrenalin pumping!
It should also be noted that the ice bridge doesn't occur every year but they do occur more often than not. Records indicate that there have only been three years where we have had no ice bridge: 1986. 1987, and 1998. I wouldn't be surprised if one doesn't form this year due to the mild winter we've had do far.  Regardless, winter in Niagara Falls is always good times with plenty of warm hotels, casinos, restaurants, and attractions ready to welcome you.  Check out www.NiagaraFallsTourism.com and plan your winter getaway. For more information on the Niagara Ice Bridge go here.