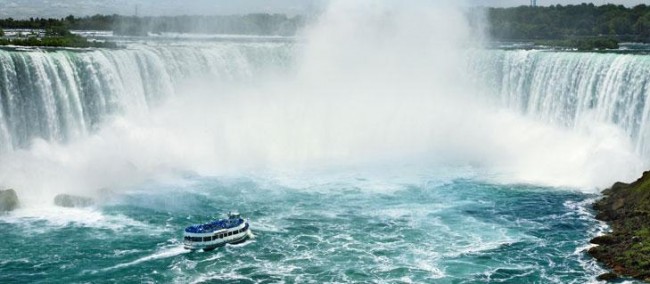 The popular Maid of the Mist tour boats below Niagara Falls are launching a new season.
Explore the Roar! The 2012 season opens Thursday April 12!
The 2012 season was briefly in doubt earlier this year after the Niagara Parks Commission awarded the Canadian boat tour contract to Hornblower Canada beginning in 2014, but the Maid of the Mist says the tours will be available this year.
Water rushes all around as you "soak" in the excitement and explore the roar of the Falls. A historical ride aboard the world-famous Maid of the Mist is a half hour thrill of a lifetime! North America's oldest tourist attraction, millions of visitors have enjoyed the boat tours since 1846.
Maid of the Mist Location
The entrance for Canadian departures for Maid of the Mist is at 5920 Niagara Parkway, Niagara Falls, Ontario, Canada. This is at the north end of Queen Victoria Park, close to the Rainbow Bridge and Oakes Garden Theatre at the foot of the Clifton Hill tourist area.
Maid of the Mist Facts & Figures
A powerful diesel-engined boat will take you from the Canadian docks past the base of the American Falls, then into the basin of the magnificent Canadian Horseshoe Falls. Operating from late April/early May (weather dependent) to October 24 each year, the Maid departs every 15 minutes. Two 600-passenger boats, Maids VI and VII, are each 80-feet long and have two 350-horsepower engines that carry the vessels against the powerful current. A recyclable souvenir raincoat is provided free with admission to help keep you dry from the mist and spray.
The Maid of the Mist Steamship Company is privately owned and leases the land for its Canadian operations from The Niagara Parks Commission.
Steamship departures from the Canadian side of the Niagara River are located at the Maid of the Mist Plaza. Previously the location of the Princess Elizabeth Building , the Plaza was built in 1991 and is unique in that it is set into the gorge wall, with all buildings below ground level. The large brown stone tower, covered in split brick mosaic carvings of vines, houses four high-speed elevators that take passengers down to the docks at the river's edge. Taking a few steps up to the top of the tower provides a wonderful panoramic view of Niagara Falls and it is a very popular location for photographers.
Attraction Information
Rate Schedule
Adults $16.50
Child (6-12 yrs) $10.10
5 and under no charge accompanied parents only**Rates and Schedule are Subject to Change Without NoticeApril 12 – May 18
9:45am to 4:45pm (weekdays)
9:45am to 5:45pm (weekends)VICTORIA DAY WEEKEND
May 19, May 20
9:45am to 7:45pmMay 21 – May 25
9:45am to 5:45pmMEMORIAL DAY WEEKEND
Saturday May 26
9:00am to 7:45pm
Sunday May 27
9:00am to 7:45pm
Monday May 28
9:00am to 5:45pmMay 29 – June 15
9:45am to 5:45pm
June 16 – Aug. 8
9:00am to 7:45pm (daily)
Aug. 9 – Aug. 28
9:00am to 7:15pm (daily)
Aug. 29 – Sept. 2
9:00am to 7:00pm (daily)
Labour Day Only Monday Sept. 3
9:00am to 4:45pm
Sept. 4 to October 3
9:45am to 4:45pm (weekdays)
9:45am to 5:45pm (weekends)
October 4 to October 24
9:45am to 4:45pm (daily)
** Last day of operation for the 2012 season is October 24, 2012